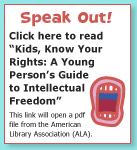 KIDS:
If a book has been challenged or banned in your classroom, school, or public library the first thing to do is contact the National Coalition Against Censorship (ncac.org). They will help you figure out the best way to defend your right to read. Try to work with a teacher, librarian, or parent.
Other things you can do are:
Start a petition in your school and community to have the book returned.
Contact your local newspaper, radio or TV station (remember, censors hate publicity).
Write a letter to the school principal, superintendent and school board explaining why the book is important to you.
Be prepared to speak at school board meetings about the book and why it should not be banned.
TEACHERS AND LIBRARIANS:
Be prepared: know what your school's policy and procedures are for dealing with complaints and book challenges.
Contact National Coalition Against Censorship (ncac.org). They can advocate on your behalf as well as put you in touch with local anti-censorship groups.
Contact the American Library Association Office of Intellectual Freedom (ala.org).
Contact the National Council of Teachers of English (ncte.org).
Contact the National Education Association (nea.org).
WRITERS:
Contact your publisher and let them know where your book is being challenged, and on what grounds.
Contact the National Coalition Against Censorship (ncac.org)
The Authors Guild (authorsguild.org)
The Society of Children's Book Writers and Illustrators (scbwi.org)