Reference Desk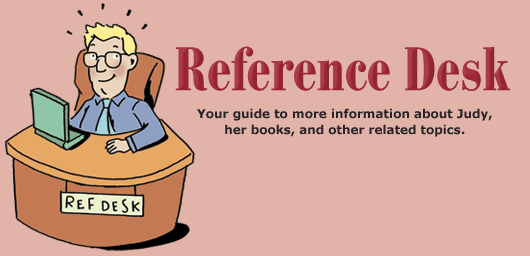 Articles by Judy that are filled with autobiographical information, fun facts and stories about her life.
Judy writes about the recording of her audiobooks. Plus a list of all available audiobooks and DVD's.
Index of articles about Judy, biographical resources, autobiographical essays, and awards/honors.
A list of book awards, foreign editions, book chronology, and more.
Movies by (and about) Judy including 2023's Are You There, God? It's Me, Margaret. and Judy Blume Forever.

Watch and Listen
Here's where you can find links to podcasts, videos, audioclips, etc.
Links to interviews and chats with Judy as well as newspaper and magazine articles.
Note for advanced researchers: Judy created an archive of her professional materials at the Yale University Beinecke Library. For information on accessing that archive, click here.