Reference Desk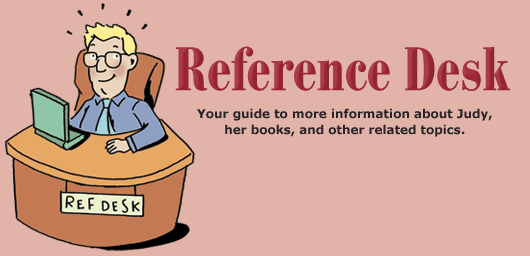 Articles by Judy that are filled with autobiographical information, fun facts and stories about her life.
Judy writes about the recording of her audiobooks. Plus a list of all available audiobooks and DVD's.
Index of articles about Judy, biographical resources, autobiographical essays, and awards/honors.

Watch and Listen
Here's where you can find links to podcasts, videos, audioclips, etc.
Links to interviews and chats with Judy as well as newspaper and magazine articles.
A list of book awards, foreign editions, book chronology, and more.
Note for advanced researchers: Judy created an archive of her professional materials at the Yale University Beinecke Library.
For information on accessing that archive, click here.