Excerpt from The Half-Jewish Book
Although both Judy's parents were Jewish, she was asked to participate in The Half-Jewish Book (Villard, 2000) because the heroine of Are You There God? It's Me, Margaret is half-Jewish.

By Daniel M. Klein and Freke Vuijst (including Q and A with Judy)
Two truly wonderful children's novels about half-Jewish girls explore issues facing "halfie" kids in America today: Judy Blume's controversial first novel, Are You There God? It's Me, Margaret, and Virginia Euwer Wolff's The Mozart Season. Both of these books offer candid and intimate insights into the dilemmas and joys of being half Jewish.
Half-Jewish children who read these novels all say that it is a "relief" to connect with a character who has the same problems they face. But perhaps the greatest value of the books is the insight they provide for parents of half-Jewish children. As one mother of a "halfie" said, "Until I read Are You There God?, I didn't have a clue as to how confusing it can sometimes be for my daughter. And how much of the problem I was! It was a terrific wake-up call."
When Judy Blume's Are You There God? It's Me, Margaret first came out, in 1970, it caused a scandal that still reverberates in some communities (and their libraries) today. The book actually talked frankly about young girls getting their first period! And about their fervent desire to start growing breasts! So much did these shocking topics dominate discussions of this novel for children between ten and twelve that hardly anything was said about the title character's perplexity concerning religious identity—a theme that runs through the book as dominantly as matters of maturing bodies do.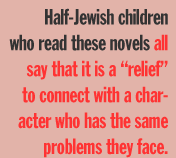 Twelve-year-old Margaret Simon moves from New York City to a New Jersey suburb at the beginning of sixth grade. There, she immediately falls in with a group of girls who name themselves the Four PTS's (Pre-Teen Sensations). While they are arranging meeting times for their club, one of the girls says she has to go to Hebrew school on Tuesdays and Thursdays. No problem for Margaret; much to the other girls' astonishment, she goes to neither Hebrew school nor Sunday school. Her new friends are amazed to learn that this is because her father is Jewish and her mother is Christian and, to avoid family complications, they do not practice any religion.
But in this town, not being anything is a real problem—a very practical social problem: Should Margaret join the Y or the Jewish Community Center? Every kid in town belongs to one or the other. Now, this may not sound like a profound identity problem to many adults, but to a twelve-year-old girl it is a dilemma of existential proportions. With this pressure to make a choice, Margaret decides to do her school research paper on religion.
Her first step is to go to synagogue with her Jewish grandmother in New York, a move that obviously thrills her grandmother but seriously disturbs her mother, a liberal who sees religion only as a source of turmoil:
"That's ridiculous!" my mother said when I told her. "You know how Daddy and I feel about religion."
"You said I could choose when I grow up!"
"But you're not ready to choose yet, Margaret!"
"I just want to try it out," I argued. "I'm going to try church too, so don't get hysterical!"
"I am not hysterical! I just think it's foolish for a girl of your age to bother herself with religion."
Next, Margaret tries the local Presbyterian church with her pal Janie:
The funniest thing was it was just like temple. Except it was all in English. But we read from a prayer book that didn't make sense and the minister gave a sermon I couldn't follow and I counted eight black hats, four red ones, six blue and two fur.
Margaret also takes a stab at confession with a friend who is Catholic. In between, there is an unhappy family confrontation with Margaret's maternal grandparents, who insist that a person does not choose her religion; she is born into it. And there is a small contretemps at school about the Christmas-Hanukkah pageant: One of the Jewish boys brings a note from home saying that he cannot sing Christmas carols because they are against his religion, and one of the Christian girls refuses to sing a Hanukkah song because it is against her religion.
Throughout, Margaret maintains a close and chatty daily relationship with God, with whom she discusses her religious investigations:
Are you there, God? It's me, Margaret.
I want you to know I'm giving a lot of thought to Christmas and Hanukkah this year. I'm trying to decide if one might be special for me.
In Reference: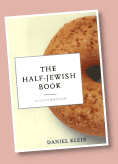 The Half-Jewish Book: A Celebration
By Daniel Klein and Freke Vuijst
(Villard, 2000)