Wifey (New Intro)

I grew up in the fifties, with a mother whose expectations for me didn't go beyond wanting me to be a good girl. She urged me to get a college degree in education in case, God forbid, I ever had to go to work. Along the way, I was supposed to meet and marry a professional man from a nice Jewish family, have a couple of children, and wind up in a beautiful house in suburban New Jersey. My mother was a good woman, but her dreams for me were based on her own. I couldn't tell her that in my fantasy life I was anything but a good girl or that I dreamed of a life of drama and adventure. Ah, what Mother never knew!
But ever anxious to please, and maybe afraid to try anything else, I went to college and got a degree in education. Before graduation I met and married a young lawyer. By the time I was twenty-five, I had two children and was living in a ranch house on a cul-de-sac in suburban New Jersey. My mother was very happy.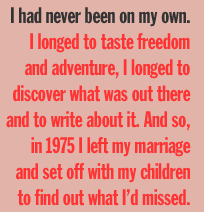 For sixteen years, writing saved me and my marriage. But by the mid seventies all the rules had changed. I was thirty-seven at the time. Like Jennie, the canine heroine of Maurice Sendak's Higglety, Pigglety Pop! who believed there must be more to life than having everything – I was after experience. I had never been on my own. I longed to taste freedom and adventure, I longed to discover what was out there and to write about it. And so, in 1975 I left my marriage and set off with my children to find out what I'd missed.
For all three of us the journey was difficult and sometimes painful. What I learned would fill a book, one I haven't yet written and may never write. Instead, a year or so later when I sat down to start a new book, the story that came tumbling out was about what happens to a suburban New Jersey marriage one summer when a woman named Sandy Pressman begins to question her choices and give in to her fantasies. No, I'm not Sandy, although many of the details of her life come from mine – her exotic illnesses, her failure on the golf course, her fantasies. And I was never married to Norman but I knew plenty of guys like him.
It took three months to find the voice in which to tell Sandy's story. Three months of stuffing my face with donuts because I'd rented a tiny office above a donut shop in Los Alamos, New Mexico (don't ask how I wound up there). Every day while my kids were at school, I'd go to my office to write. Every day the scent of freshly baked donuts wafted upstairs, making my mouth water. After three months and who knows how many glazed donuts, I gave up my office and moved back home to write the book.
When I look at the book today, I can't believe how fearless I was in my writing. I mean, all those sexual fantasies and escapades! Maybe I just didn't know enough then to be worried. Maybe I really didn't care what anyone thought. I just remember this burning inside, this need to get Sandy's story on paper. I was, after all, raised to be Sandy. I still identify with her.
If I sat down to write Wifey now I wonder if I'd be able to let go the way I did then. I'm not as filled with angst today (angst is good for writers). I'm as content as I've ever been (contentment is bad for writers) though I can always come up with something to worry about.
When Wifey was published, it caused an uproar. By then, I'd written and published thirteen books for young readers. Some people thought Wifey would end my career. Some congratulated me on having written a real book at last. Some were angry that I hadn't used a pseudonym, others that I even had such thoughts. People magazine shot a photo of me in a lacy teddy. The headline read, "The Jaclyn Susann of Children's Books Grows Up."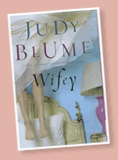 In Reference: