Excerpt from Places I Never Meant to Be: Page 2

When Margaret was published in 1970 I gave three copies to my children's elementary school but the books never reached the shelves. The male principal decided on his own that they were inappropriate for elementary school readers because of the discussion of menstruation (never mind how many fifth- and sixth-grade girls already had their periods). Then one night the phone rang and a woman asked if I was the one who had written that book. When I replied that I was, she called me a communist and hung up. I never did figure out if she equated communism with menstruation or religion.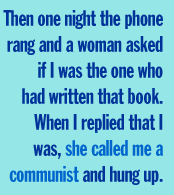 In that decade I wrote thirteen other books: eleven for young readers, 0ne for teenagers, and one for adults. My publishers were protective of me during those years and didn't necessarily share negative comments about my work. They believed if I didn't know some individuals were upset by my books, I wouldn't be intimidated.
Of course, they couldn't keep the occasional anecdote from reaching me: the mother who admitted she'd cut two pages out of Then Again, Maybe I Won't rather than allow her almost thirteen-year-old son to read about wet dreams. Or the young librarian who'd been instructed by her male principal to keep Deenie off the shelf because in the book, Deenie masturbates. "It would be different if it were about a boy," he'd told her. "That would be normal."
The stories go on and on but really, I wasn't that concerned. There was no organized effort to ban my books or any other books, none that I knew of, anyway. The seventies were a good decade for writers and readers. Many of us came of age during those years, writing from our hearts and guts, finding editors and publishers who believed in us, who willingly took risks to help us find our audience. We were free to write about real kids in the real world. Kids with feelings and emotions, kids with real families, kids like we once were. And young readers gobbled up our books, hungry for characters with whom they could identify, including my own daughter and son, who had become avid readers. No mother could have been more proud to see the tradition of family reading passed on to the next generation.
Then, almost overnight, following the presidential election of 1980, the censors crawled out of the woodwork, organized and determined. Not only would they decide what their children could read but what all children could read. It was the beginning of the decade that wouldn't go away, that still won't go away almost twenty years later. Suddenly books were seen as dangerous to young minds. Thinking was seen as dangerous, unless those thoughts were approved by groups like the Moral Majority, who believed with certainty they knew what was best for everyone.
So now we had individual parents running into schools, waving books, demanding their removal — books they hadn't read except for certain passages. Most often their objections had to do with language, sexuality, and something called "lack of moral tone."
Those who were most active in trying to ban books came from the "religious right" but the impulse to censor spread like a contagious disease. Other parents, confused and uncertain, were happy to jump on the bandwagon. Book banning satisfied their need to feel in control of their children's lives. Those who censored were easily frightened. They were afraid of exposing their children to ideas different from their own. Afraid to answer children's questions or talk with them about sensitive subjects. And they were suspicious. They believed if kids liked a book, it must be dangerous.

Too few schools had policies in place enabling them to deal with challenged materials. So what happened? The domino effect. School administrators sent down the word: Anything that could be seen as controversial had to go. Often books were quietly removed from school libraries and classrooms or, if seen as potential troublemakers, were never purchased in the first place. These decisions were based not on what was best for the students, but what would not offend the censors.
I found myself at the center of the storm. My books were being challenged daily, often placed on restricted shelves (shades of Elizabeth, New Jersey, in 1955) and sometimes removed. A friend was handed a pamphlet outside a supermarket urging parents to rid their schools and libraries of Judy Blume books. Never once did the pamphlet suggest the books actually be read. Of course I wasn't the only target. Across the country, the Sex Police and the Language Police were thumbing through books at record speed, looking for illustrations, words or phrases that, taken out of context, could be used as evidence against them.