Excerpt from Places I Never Meant to Be: Page 3

Puberty became a dirty word, as if children who didn't read about it wouldn't know about it, and if they didn't know about it, it would never happen.
The Moral Tone Brigade attacked Blubber (a story of victimization in the classroom) with a vengeance because, as they saw it, in this book evil goes unpunished. As if kids need to be hit over the head, as if they don't get it without having the message spelled out for them.
I had letters from angry parents accusing me of ruining Christmas because of a chapter in Superfudge called "Santa Who?" Some sent lists showing me how easily I could have substituted one word for another: meanie for bitch; darn for damn; nasty for ass. More words taken out of context. A teacher wrote to say she blacked out offending words and passages with a felt-tip marker. Perhaps most shocking of all was a letter from a nine-year-old addressed to Jewdy Blume telling me I had no right to write about Jewish angels in Starring Sally J. Freedman as Herself.
My worst moment came when I was working with my editor on the manuscript of Tiger Eyes (the story of a fifteen-year-old girl, Davey, whose beloved father dies suddenly and violently). When we came to the scene in which Davey allows herself to feel again after months of numbness following her father's death, I saw that a few lines alluding to masturbation had been circled. My editor put down his pencil and faced me. "We want this book to reach as many readers as possible, don't we?" he asked.
I felt my face grow hot, my stomach clench. This was the same editor who had worked with me on Are You There God? It's Me, Margaret; Then Again, Maybe I Won't; Deenie; Blubber; Forever — always encouraging, always supportive. The scene was psychologically sound, he assured me, and delicately handled. But it also spelled trouble. I got the message. If you leave in those lines, the censors will come after this book. Librarians and teachers won't buy it. Book clubs won't take it. Everyone is too scared. The political climate has changed.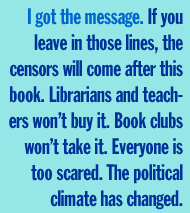 I tried to make a case for why that brief moment in Davey's life was important. He asked me how important? Important enough to keep the book from reaching its audience? I willed myself not to give in to the tears of frustration and disappointment I felt coming. I thought about the ways a writer brings a character to life on the page, the same way an artist brings a face to life on canvas — through a series of brush strokes, each detail adding to the others, until we see the essence of the person. I floundered, uncertain. Ultimately, not strong enough or brave enough to defy the editor I trusted and respected, I caved in and took out those lines. I still remember how alone I felt at that moment.
What effect does this climate have on a writer? Chilling. It's easy to become discouraged, to second guess everything you write. There seemed to be no one to stand up to the censors. No group as organized as they were; none I knew of, anyway. I've never forgiven myself for caving in to editorial pressure based on fear, for playing into the hands of the censors. I knew then it was all over for me unless I took a stand. So I began to speak out about my experiences. And once I did, I found that I wasn't as alone as I'd thought.
My life changed when I learned about the National Coalition Against Censorship (NCAC) and met Leanne Katz, the tiny dynamo who was its first and longtime director. Leanne's intelligence, her wit, her strong commitment to the First Amendment and helping those who were out on a limb trying to defend it, made her my hero. Every day she worked with the teachers, librarians, parents and students caught in the cross fire. Many put themselves and their jobs on the line fighting for what they believed in.
In Panama City, Florida, junior high school teacher Gloria Pipkin's award-winning English program was targeted by the censors for using Young Adult literature that was depressing, vulgar and immoral, specifically I Am the Cheese, by Robert Cormier, and About David, by Susan Beth Pfeffer.
A year later, when a new book selection policy was introduced forbidding vulgar, obscene and sexually related materials, the school superintendent zealously applied it to remove more than sixty-five books, many of them classics, from the curriculum and classroom libraries. They included To Kill a Mockingbird, The Red Badge of Courage, The Great Gatsby, Wuthering Heights, and Of Mice and Men. Also banned were Shakespeare's Hamlet, King Lear, The Merchant of Venice and Twelfth Night.
Gloria Pipkin fought a five-year battle, jeopardizing her job and personal safety (she and the reporter covering the story received death threats) to help reinstate the books. Eventually, the professional isolation as well as the watered-down curriculum led her to resign. She remains without a teaching position.