Getting Published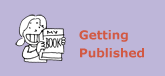 Kids: I get so many letters asking me how you can get your work published. Don't even think about it now. Just write for yourself. If you want to share your work show it to family and friends. Some schools publish young authors' work in newsletters and magazines. Some classes are even writing and illustrating their own books. Or you can ask your librarian to help you find out which magazines accept original work from children.
Teens: A good bet is TeenInk. This is a national magazine based completely on teen generated material. Check it out.
Adults: Do your homework. Study the marketplace. Your library should have copies of Literary Market Place and Writers Market with names and addresses of editors and agents. Yes, it helps to have an agent (I didn't have one until I had already published three books). How do you get an agent? Choose a few names that sound right for you and send them samples of your work.