Judy's DVD: Otherwise Known as Sheila the Great

Who is Sheila Tubman?
Is she the confident, brave, and brilliant Sheila the Great?
Or the secret Sheila, who's afraid of spiders, the dark, swimming, and most of all, dogs?
When Sheila's family rents a summer house, she is determined to keep the "secret Sheila" from her new friends.
But it's not easy to be Sheila the Great when she discovers the house comes with a dog!
And worse yet, when her mother signs her up for swimming lessons at the town pool!
How will Sheila survive the summer vacation?
Written by Judy Blume
Produced and directed by
Lawrence Blume
Runtime: 23 minutes
Plus extra interview with Judy Blume
$9.99
---
Judy says
Almost twenty years ago I was offered the opportunity to make a short film of any of my books. My son Larry had graduated from college as a film major a few years earlier and he and I decided to collaborate on Sheila the Great. We wrote a screenplay in one week and that summer he directed the movie. It's my favorite of any adaptation of my books. Not because Larry directed it — but because I think it captures the spirit of the story and of Sheila.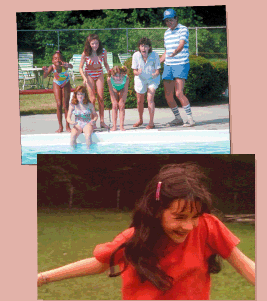 We have to thank Leah Foster, a young actress (she was going on 11 that summer) for her hard work and talent. She was Sheila. We knew it the minute she started to read for the part. She had the humor and the vulnerability. She was a natural. A perfect Sheila. We shot the movie during a heat wave in July. What saved us was that many scenes were shot at a community pool. I remember dumping baseball caps of water over my head. Leah and the other kids on the set called the movie as "Otherwise Known as Sheila the Grape."
Marty, the swimming teacher, was played by a handsome guy who had been the voice of more than one muppet. This was his first time in front of the camera. Sheila's mom was played by Leah's real mom. And Leah became friends on the set with Cammie Peterson, who played Sondra. They, and their families, are still the best of friends.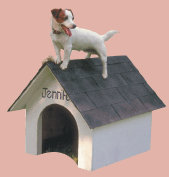 Toby, the Jack Russell terrier who plays Jennifer, is really a male dog. There were a lot of jokes about that. A few months after we finished shooting, the dog trainer called Larry to say one of her dogs had had a litter of puppies and would he like to see them? That was it! Larry came home with an adorable puppy. He named her Mookie, after Mookie Wilson who played for the Mets. Mookie became my "granddog." Everything I learned about loving a dog, I learned from Mookie. She lived for 16 years. I still miss her. Every time I see a Jack Russell I think of her. I know Larry does too.
The movie is just under half an hour. A conversation between Larry and me, about the making of Sheila the Great, follows. I hope you'll enjoy it in your classrooms or at home and talk about it after. There are no car chases, no bells and whistles, just the story of a girl who isn't sure who she is. A couple of six year olds who visit us in the summer always ask to see the blah blah blah movie. You'll see why. The movie was shown on TV as a weekend special but this is the first time we're able to make it available to everyone.