Wifey (New Intro): Page 2

I cringe, even today, thinking of that article. I began to hear from old boyfriends. The underlying message was, Judy must have been a hot number. Who'd have guessed? Strangers wrote letters and sent gifts. I especially enjoyed this poem sent to me by a fan:
You're rude and crude
Depraved and lewd
You're caught in a moral crunch
You're vexed, perplexed
And oversexed
So when can we have lunch?
A man named Norman Pressman wrote to assure me he was nothing like Sandy's husband. Since I was traveling to his city on my book tour we agreed to meet. It was an awkward meeting in a hotel room with my publicist and a few other people from the publishing company (everyone wanted to meet the real Norman Pressman). He seemed sweet and shy, and was married with children. He had no way of knowing I was basically a good girl with an active imagination. I think he was relieved not to be alone with me. Then again, maybe he was disappointed.
My mother, who went to high school with Philip Roth's mother, met Mrs. Roth on the street. Mrs. Roth had some advice for her. "When they ask how she knows those things, you say, I don't know, but not from me!" I'm sure my mother used that line more than once. My mother and I never talked about sex but she was more pleased by my success than embarrassed by what I'd written. The only thing she asked was to be left out of my books. I tried to explain that there would always be mothers in my stories and that none of them were based on her. She said it didn't matter, that everyone would think she was Sandy Pressman's mother, anyway. She wasn't. When my grown daughter wrote a novel I told her not to worry, that I understood how fiction is created. Still, I found myself telling everyone that I was not the mother in her book.
I never intended to stop writing books for young readers, though most people assumed I had. Wifey was followed by Superfudge, Tiger Eyes, and many other titles for children. The need to write stories about the lives of grown women struck two more times, with Smart Women, and more recently, with Summer Sisters. Will it strike again? Who knows?
I hope you enjoy Sandy Pressman and her story. Though it was written in a very different time and place, some things never change, some longings are universal, and these are what I most enjoy exploring in my writing.
Judy Blume
June 29, 2004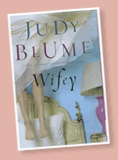 In Reference: