Watch and Listen: Video: Page 3

Video Links
These links do not reside here at JudyBlume.com. They will open in a separate window.
On Late Night with Jimmy Fallon, Will Arnett did a dramatic reading from a passage of Judy's coming-of-age classic Are You There God? It's Me, Margaret. Praying for boobs sounds scarier when he does it.
July 20, 2009
---
For the inauguration of the Free Speech Leadership Council, A Conversation with Toni Morrison, the Nobel-prize winning author discussed book censorship and the power of reading with Judy.
June 3, 2009
---
Judy delivered the 11th annual lecture to honor Charlotte Zolotow, distinguished children's book editor for 38 years and author of more than 65 picture books. Note: Judy's talk begins 8:30 seconds into video.
October 15, 2008
---
Presented by Object in LA. Via a live Video Chat, Judy participates in a celebration of readings, performances and reflections. Includes Candypants singing their hit single Dry Your Judy Blume Tears.
September 19, 2008
---
Judy taking Bruce Moore's tap class.
Winter 2008
---
Judy joins a fan on the sliding board in a San Francisco park.
September 2008
---
Judy was Honored at the annual dinner of the National Women's Law Center.
Video 1 – 3:30
Video 2 – 4:48
Video 3 – 3:37
Video 4 – 4:45
Video 5 – 2:33
Video 6 – 3:42
October 2006
---
Accepting the National Book Foundation's Medal for Distinguished Contribution to American Letters. Click here for transcript of Judy's talk.
Video 1 – 4:20
Video 2 – 4:07
Video 3 – 3:50
Video 4 – 3:50
Video 5 – 3:45
Video 6 – 3:03
Video 7 – 3:31
Fall 2004
---
Named Woman of the Year
Fall 2004
---
"Young at Heart" a conversation with Jeffrey Brown about writing books for young people and receiving the National Book Foundation's Medal for Distinguished Contribution to American Letters.
Video 1 – 4:06
Video 2 – 4:14
2004
---
Judy visiting her high school alma mater (now a middle school) in Elizabeth, NJ.
Fall 2004
---
Judy reads from Double Fudge on the Early Show.
Video 1 – 3:20
Video 2 – 3:42
2002
---
Judy answers questions from fourth grade children at Trevor Day School, NY during Double Fudge Tour.
2002
---
On the occasion of publishing the latest book in the series, Judy talks about Double Fudge and the entire series and how she came to write another book about Fudge — 30 years later. Includes some early video footage of Judy.
2002
---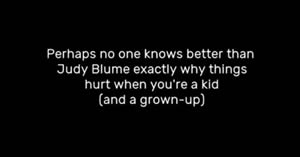 Deep archive cut from SCWBI's Vault of Judy live in conversation.
1996
---
Judy discusses censorship, with Charlie, Ken Follett and Rita Mae Brown.
Video 1 – 9:30
Video 2 – 4:17
May 1994
---
Judy was a guest on CBC's daytime current-affairs program Take 30. She spoke with host Harry Brown about Are You There God? It's Me, Margaret and the letters she got from kids. "When they write to me, they say, 'I know you don't know me, but you wrote this book about me,'" she said. "It has to do with feelings, I think, and emotion."
November 10, 1980
---
Jaqueline Schacter, Temple University Associate Professor-Emerita of children's literature, created a series of half-hour interviews with leading authors which were initially viewed by Temple University's Children's Literature classes. Judy's interview with Jaqueline was in 1973.
1973
---
Double Fudge thank you

Judy thanks friends of Fudge for choosing Double Fudge as their favorite book.
Year unknown
---