Watch and Listen: Video

Video Links
These links do not reside here at JudyBlume.com. They will open in a separate window.
Watch Jenna Bush Hagar, Hoda Kotb and Savannah Guthrie of The Today Show in conversation with Judy and their coverage of Are You There God? It's Me, Margaret movie.
TODAY SHOW – 8:00AM INTERVIEW SEGMENT
TODAY SHOW – 10:00AM MOVIE TRAILER DEBUT
TODAY SHOW – 10:00AM INTERVIEW SEGMENT
---
Books & Books was excited to partner with Miami Book Fair and indie bookstores across the U.S. & Canada for this conversation between Margaret Atwood and Judy Blume!
March 1, 2022
---
How to Fight Book Bans: Student Strategies
Note: Judy's comments start at 0:50
February 28, 2022
---
Judy's groundbreaking novel, FOREVER… created a legion of young fans since its original release. It spoke to us about first love and first times and gave us that book that we passed around to our friends, folding the corners of pages we thought they should read. FOREVER… is now available as an audiobook for the first time, narrated by Tony-nominated actress Caitlin Kinnunen (The Prom). Author Jennifer Niven (Take Me With You When You Go, All the Bright Places) moderates this panel conversation with Judy and Caitlin, where they discuss their first YA book obsessions and inspirations and re-introduce Forever… to a new generation of readers.
November 12, 2021
---
The National Coalition Against Censorship's Free Speech Defender Lifetime Achievement Award was presented to Judy at their 2021 benefit, Let Me Speak! Moving forward, NCAC's award will be named the Judy Blume Free Speech Defender Lifetime Achievement Award.
NCAC fights censorship in all its forms, but especially in literature and the arts. Their work has never been more important.
The virtual celebration of Judy, hosted by comedian and satirist Randy Rainbow, also honored Dr. Rhea Brown Lawson, Larry Charles, Chris Colfer, and Brenda Randolph as well as conversations with comedians Alonzo Bodden, Judy Gold, and Maz Jobrani.
A video of the pre-Gala Reception is available here.
November 10, 2021
---
Author Hilma Wolitzer discusses her book TODAY A WOMAN WENT MAD IN THE SUPERMARKET with author and longtime friend and Books & Books store founder Judy Blume.
September 14, 2021
---
Books & Books Presented in partnership with the National JCC Literary Consortium A Virtual Evening with Jenny Lawson in conversation with Judy discussing BROKEN (IN THE BEST POSSIBLE WAY). Hosted by CNN Correspondent Holly Firfer.
*Regretfully, this video link is no longer available.
Tuesday, April 13, 2021
---
The Columbia Journal of Gender and Law presented its Volume 41 Symposium, Are You There Law? It's Me, Menstruation, the first-ever symposium to explore the intersection of menstruation and the law. The Symposium celebrates the 50th anniversary of Judy Blume's influential book, Are You There God? It's Me, Margaret, and commemorates the 30th year since the Journal's founding.
As part of the symposium, Q&A between Judy, Emily Gold Waldman a Professor of Law and Associate Dean at Pace University and her sixth grade daughter Arielle.
April 9, 2021
---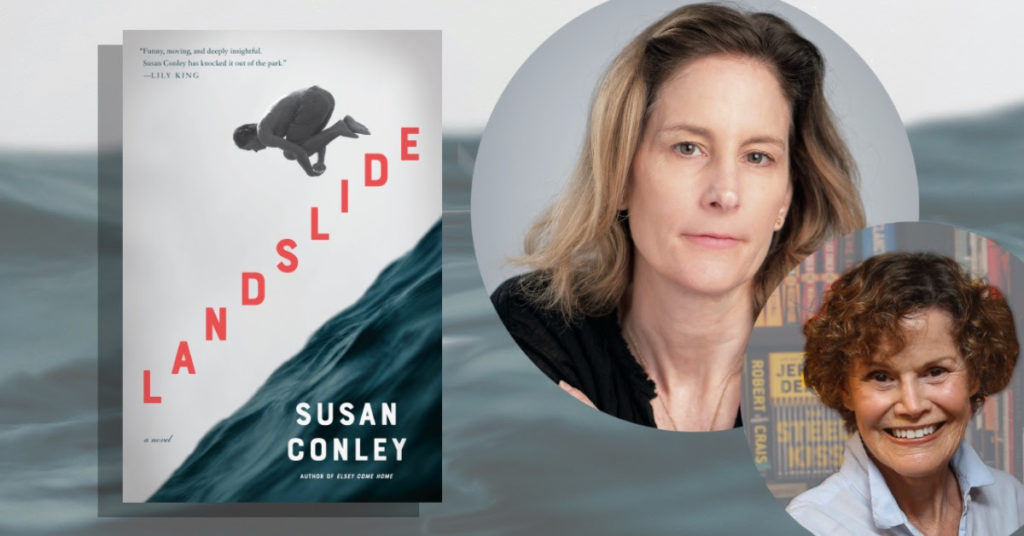 Books & Books presented an evening with Susan Conley in conversation with Judy Blume discussing Landslide.
*Video link requires registration but no cost, just enter $0 as donation and there is free access to video.
March 2, 2021
---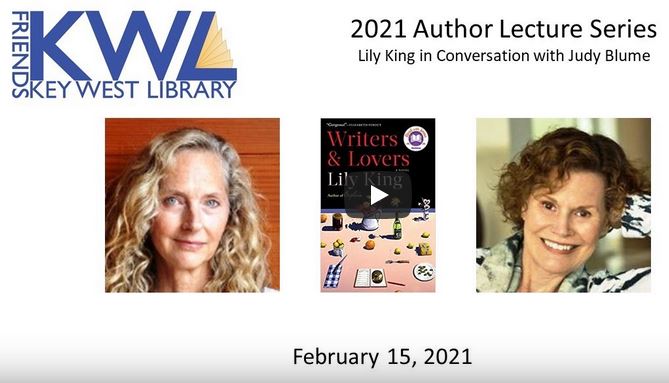 As part of the Friends of the Key West Library Lecture Series, Judy was in conversation with award-winning author Lily King about her new novel Writers & Lovers.
February 15, 2021
---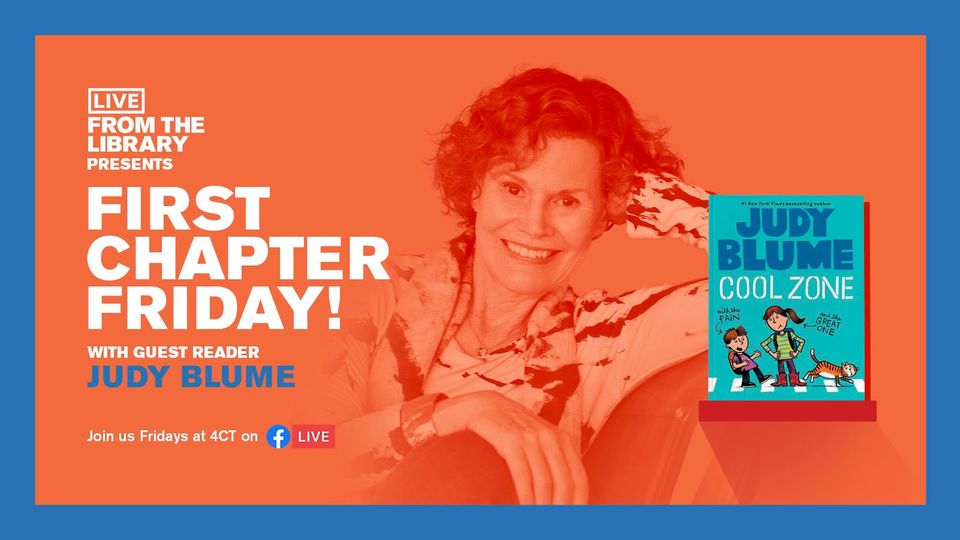 Enjoy as Judy herself reads from her book Cool Zone with the Pain and the Great One for the Chicago Public Library program "Live from the Library." Judy is reading the chapter called Bruno's Ear.
September 25, 2020
---
Hoda and Jenna of TODAY talk with Judy about the 50th anniversary of Are You There God? It's Me, Margaret.
*Regretfully, this video link is no longer available.
September 15, 2020
---
Judy talks about Margaret turning 50 today!
September 15, 2020
---
Listen in to a conversation between Judy and Lin Oliver from the Society of Children's Book Writers and Illustrators, from the summer conference.
August 1, 2020
---

On-air host Kimberly Hensle Lowrance speaks with Judy about her indie-bookstore, Books & Books at The Studios of Key West — how the store has weathered the COVID-19 pandemic and how booklovers can support bookstores at this time. Judy is joined by her husband and Books & Books co-founder George Cooper.
July 15, 2020
---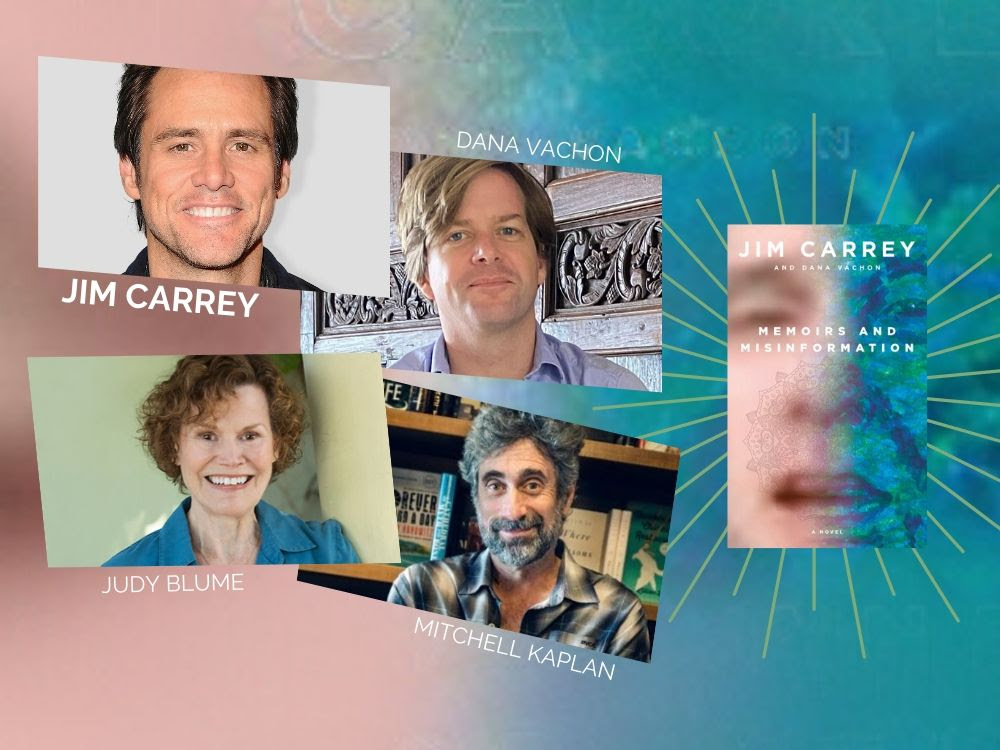 A virtual evening with Jim Carrey & co-writer Dana Vachon with an introduction by Judy. In conversation about their new semi-autobiographical novel Memoirs and Misinformation, is moderated by Books & Books founder Mitch Kaplan.
July 9, 2020
---
Judy Blume talk about what summer means to her, traveling through stories, and the book that almost broke her heart to write.
June 29, 2020
---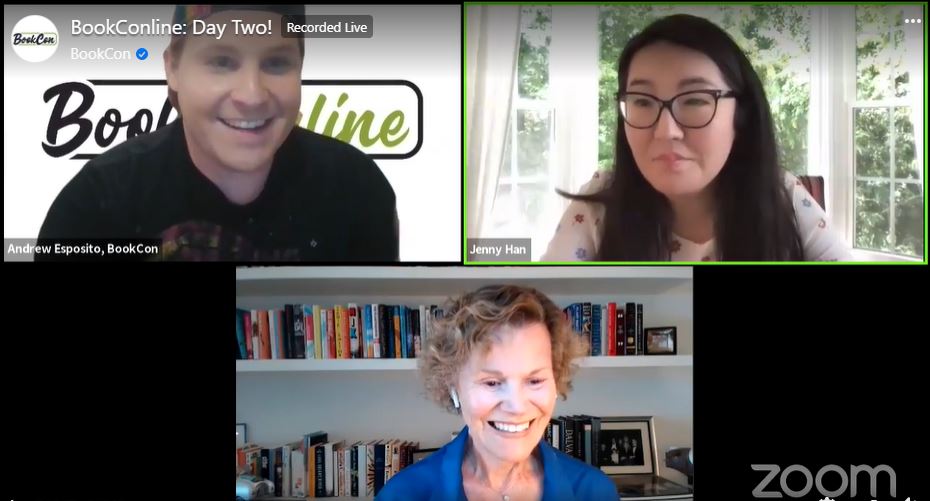 Celebrate the 50th Anniversary of Are You There, God? It's Me Margaret with a not-to-be-missed conversation between Judy and Jenny Han!
Note: Judy and Jenny's conversation starts at 3:19 minutes into BookConline video.
May 31, 2020
---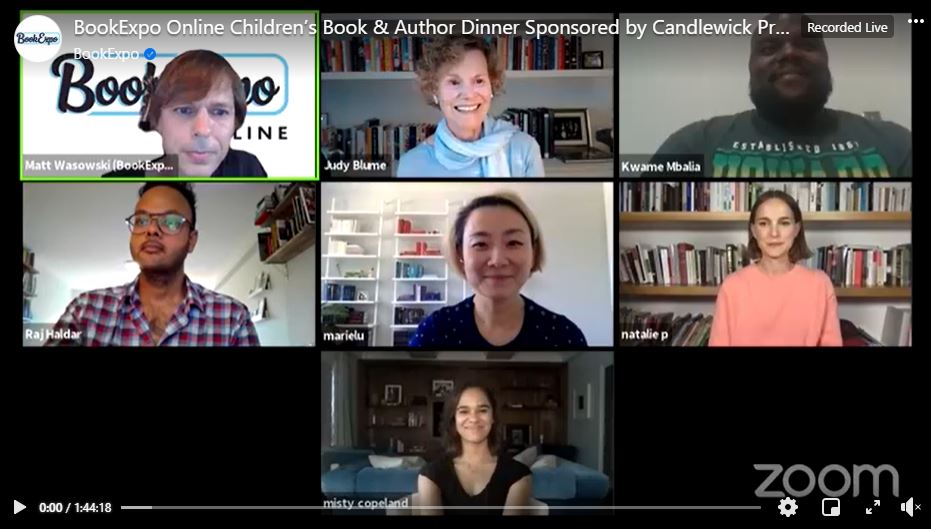 Children's Book and Author Dinner: Finding One's Voice. Join BookExpo's annual event showcasing a lively conversation with Judy, Natalie Portman, Misty Copeland, Raj Haldar, Marie Lu and Kwame Mbalia.
May 28, 2020
---
The Authors Guild Foundation's Gala Celebrating Literary Icons: Judy Blume and Margaret Atwood was virtual due to COVID19. Watch the live conversation and celebration with Judy and Margaret Atwood and moderated by Andrea Davis Pinkney. Click here for Gala video.
NOTE: The video starts with a "house open" period at the beginning. The show starts at around 21:45 and the Zoom chat starts at 26:37 with Judy, Margaret and Andrea.
May 26, 2020
---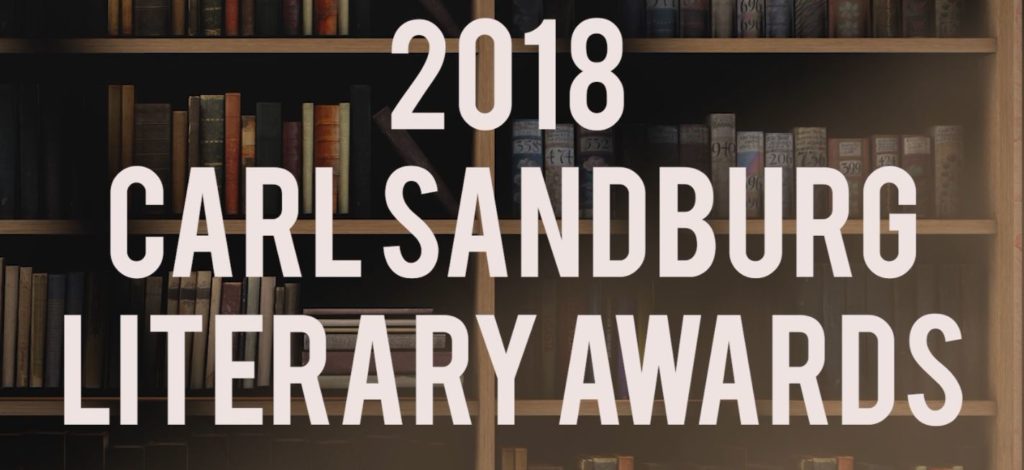 Chicago Public Library Foundation hosts 2018 Carl Sandburg Literary Awards Dinner honoring Neil deGrasse Tyson and Judy Blume. NPR Saturday Host Scott Simon moderated the conversation.
Click here for Scott Simon's introduction of Judy.
October 9, 2018
---
In celebration of Judy's 80th birthday, Symphony Space paid tribute to Judy with a day full of events. Kids enjoyed an afternoon of readings by actors and a discussion with Blume book illustrator Debbie Ridpath Ohi and contemporary authors including Jacqueline Woodson and Rachel Vail. During the evening event, hosted by Meg Wolitzer, Judy's books were admired, discussed, and performed in tribute to her groundbreaking contemporary young characters she portrayed with honesty and humor. Judy was toasted with tributes to a forever-young author.
There are two videos:
Video 1 – 47:21
Video 2 – 33:44
February 4, 2018
---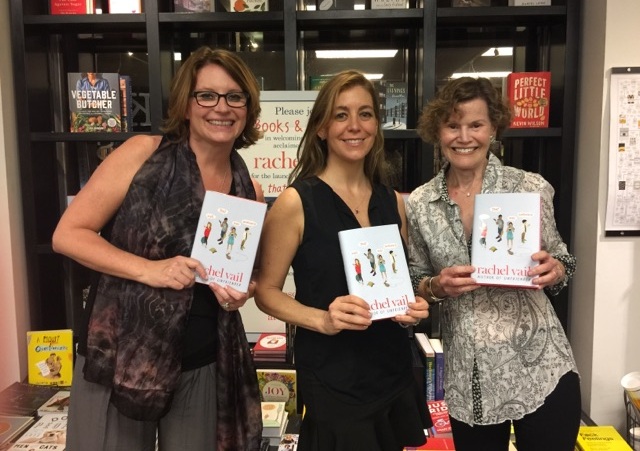 Books & Books @ the Studios in Key West, Fla. held an event with YA author Rachel Vail (center) and her new middle-grade novel, Well, That Was Awkward. Vail was in conversation with her friend and fellow author Meg Cabot (left), and was introduced by her mentor (and store co-founder) Judy Blume.
February 28, 2017
---
Happy 100th birthday to Beverly Cleary, beloved by generations of readers. With more than 40 books to Beverly's credit and the love of countless fans, she inspired other authors as well including Judy. "Beverly … you were my inspiration when I started to write all those years ago," said Judy. "You remain my inspiration today."
March 25, 2016
---
Judy discusses her career and her latest book, In the Unlikely Event, with Arlington Public Library Director Diane Kresh.
October 15, 2015
---
Seth Meyers and Judy discuss dealing with overly sensitive parents and book censorship. Additionally, the Late Night Crew ask Judy about their changing bodies.
There are two videos:
Video 1 – 2:26
Video 2 – 3:58
September 19, 2015
---
Linda Holmes, host of NPR's entertainment and pop-culture blog, Monkey See, and Judy in conversation.
June 8, 2015
---
Molly Ringwald talks with Judy about her latest book In the Unlikely Event, her career spanning nearly five decades of writing, children empowerment, and her favorite stories about the young and young at heart.
June 7, 2015
---
Jennifer Weiner in conversation with Judy about In the Unlikely Event.
June 2, 2015
---
Samantha Bee and Judy discuss literature, parenting and fame.
June 2, 2015
---
Judy joins CBS This Morning to talk about In the Unlikely Event. It is a tale of three families connected to three tragic planes crashes in the city of Elizabeth, New Jersey during the winter of 1951-1952.
June 2, 2015
---
Rita Braver talks with Judy about her groundbreaking books for adolescents and In the Unlikely Event, her latest novel about her own youth.
May 15, 2015
---
Watch Judy and Eric Carle in a lively discussion followed by a reading of their works.
September 30, 2013
---